Natalie Kyle
Product Experience Designer
Product Suite
Dashboard
The days of hunting your data are over.
The Problem
Acme* is a suite of products to help IT professionals run their business end to end. Currently Acme* is made up of 6 completely separate products, all developed in isolation from each other. The company decided over two years ago to become a suite of products and to unify the experience. Users waste an incredible amount of time every day context switching between products. It is not uncommon for our users to buy other products to create dashboards for them using our products data. Not only have partners told us for years they want dashboards, but now the users need one dashboard that can provide visibility into the data across all products.
Lack of data visibility across the entire product suite
Users waste too much time context switching between products
Large need to unify the product suite experience
Create value to prospective clients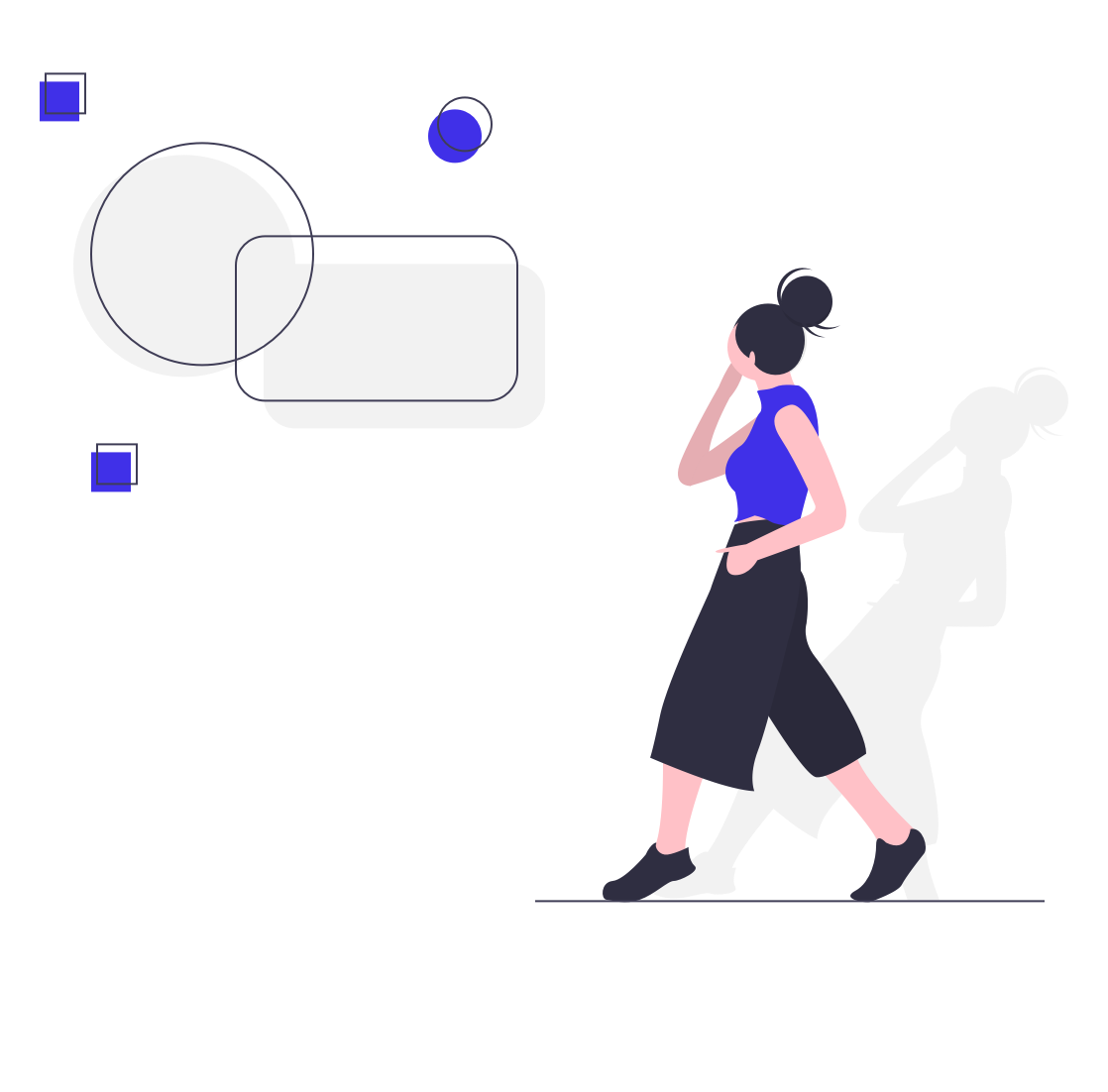 My Role
Facilitated Design Sprint
I facilitated a 5 day long design sprint. The Designers, Product Manager, Developers, Internal Experts and Users combine forces in a room for five days. First we make sure we are all understanding the problem correctly. Using research, various thought evoking tools, communication and understanding we have a prototyped concept at the end of day 4. Now we can better communicate with VPs to see if the concept will solve the business need.

Designed
I conceptualized the solution and built the prototype in order to tell the story. I also ran the concept through some initial user testing.
Pitched the concept to get Executive buy in
This was a very large concept that has been talked about for years. The solution will impact and affect all 6 products in the product suite. It was import that we vetted this concept with as many colleagues as possible. I presented this concept 8 times throughout the company to make sure everybody was informed.
Goal:
Create value by increasing data visibility and unifying the suite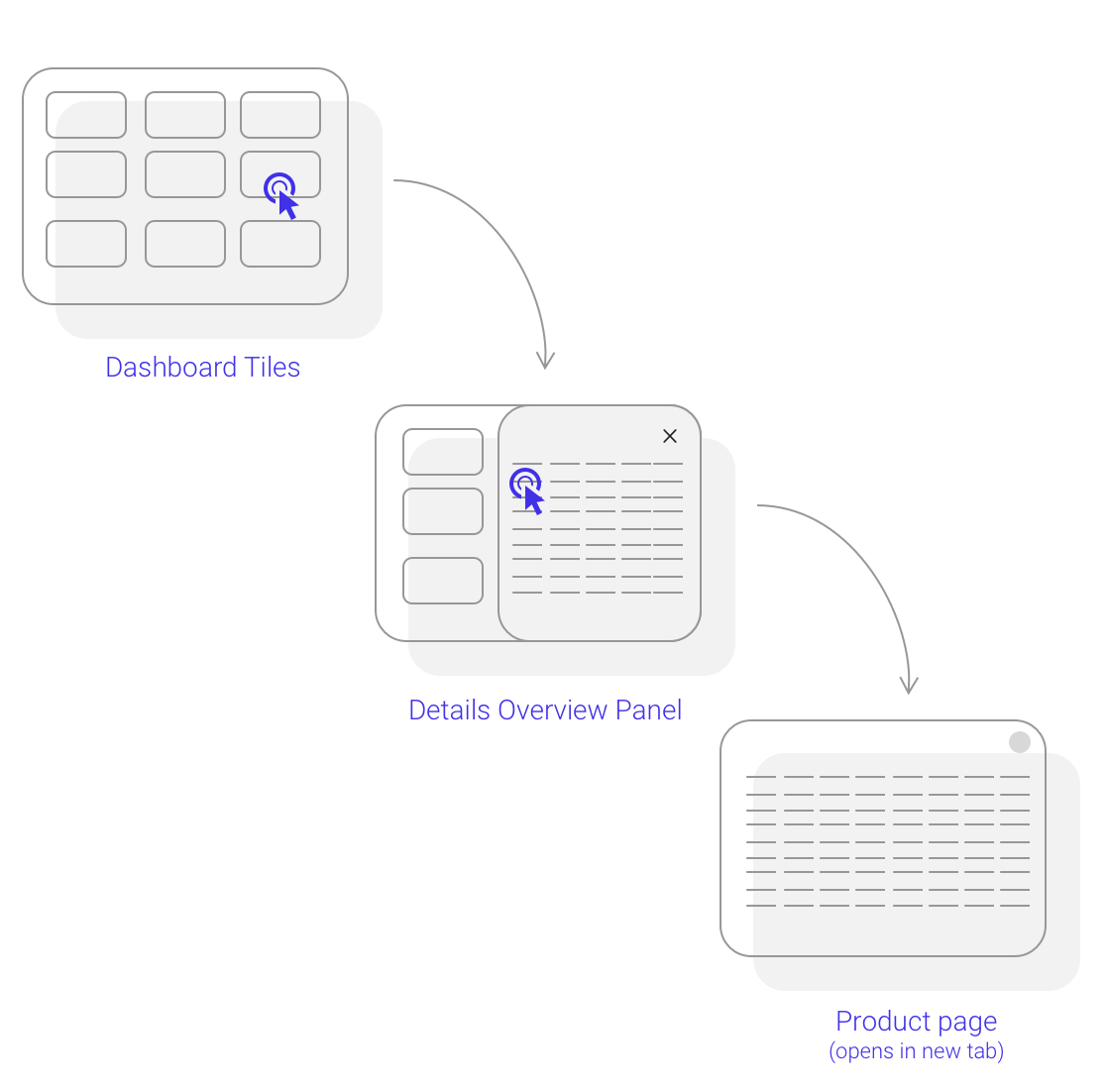 Solution
Framework
In order for 6+ products to provide consistency in the dashboard we need one framework that can be shared with a library of widgets. Each product team would be responsible for creating their own tiles for the dashboard.
Add, edit, remove widgets

Configuration and defaults

Ability for users to create multiple dashboards

Shareable with other users

Permissions/Product access (central services)
Dashboard
A dashboard that gives the user a high level view of all product data. What work they need to accomplish for that day, any data that can help them be proactive in solving IT problems for their customers.

Users will be able to have data from all products on one dashboard

Data is actionable. Clicking high level data will navigate you to full data, or a filtered view of that data, that is also actionable. This is not the case with third party dashboard products. They are only able to show Acme* data. They do not have the ability to navigate to the data in our product for the user to take action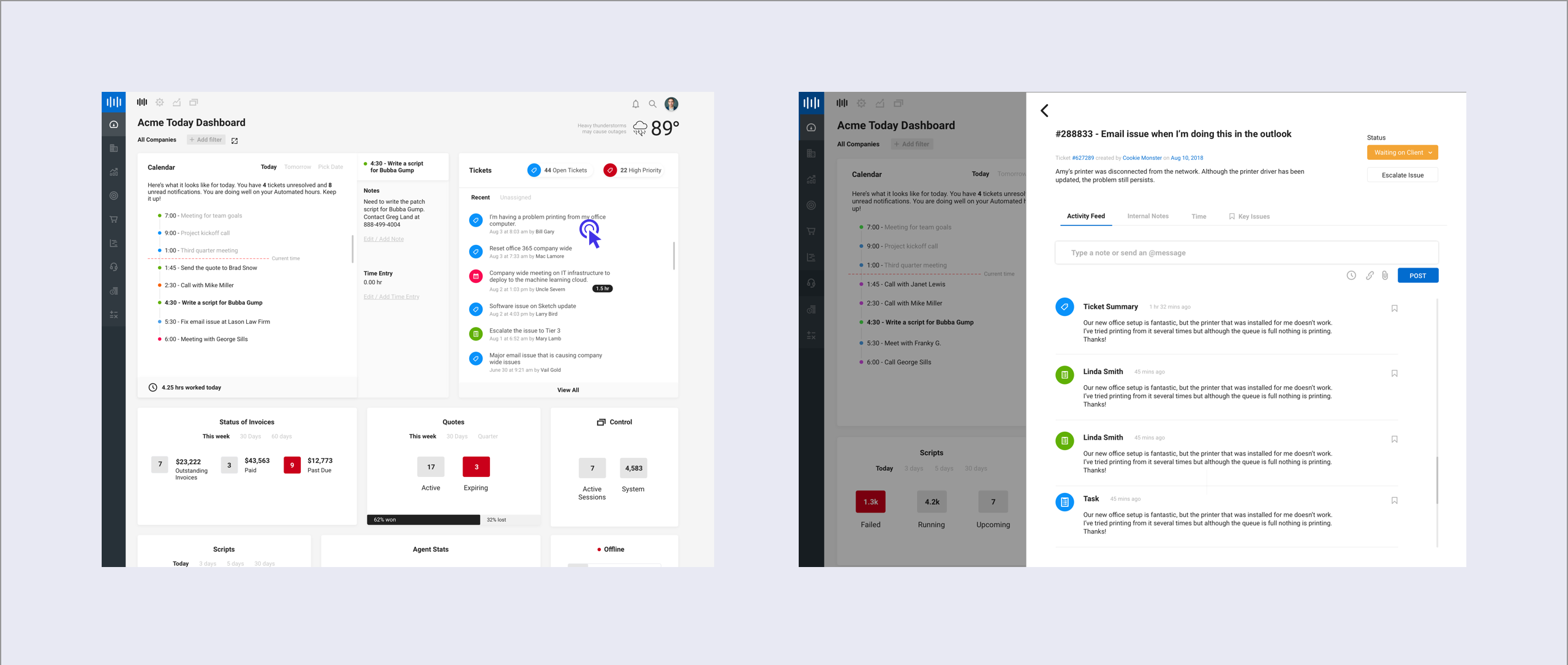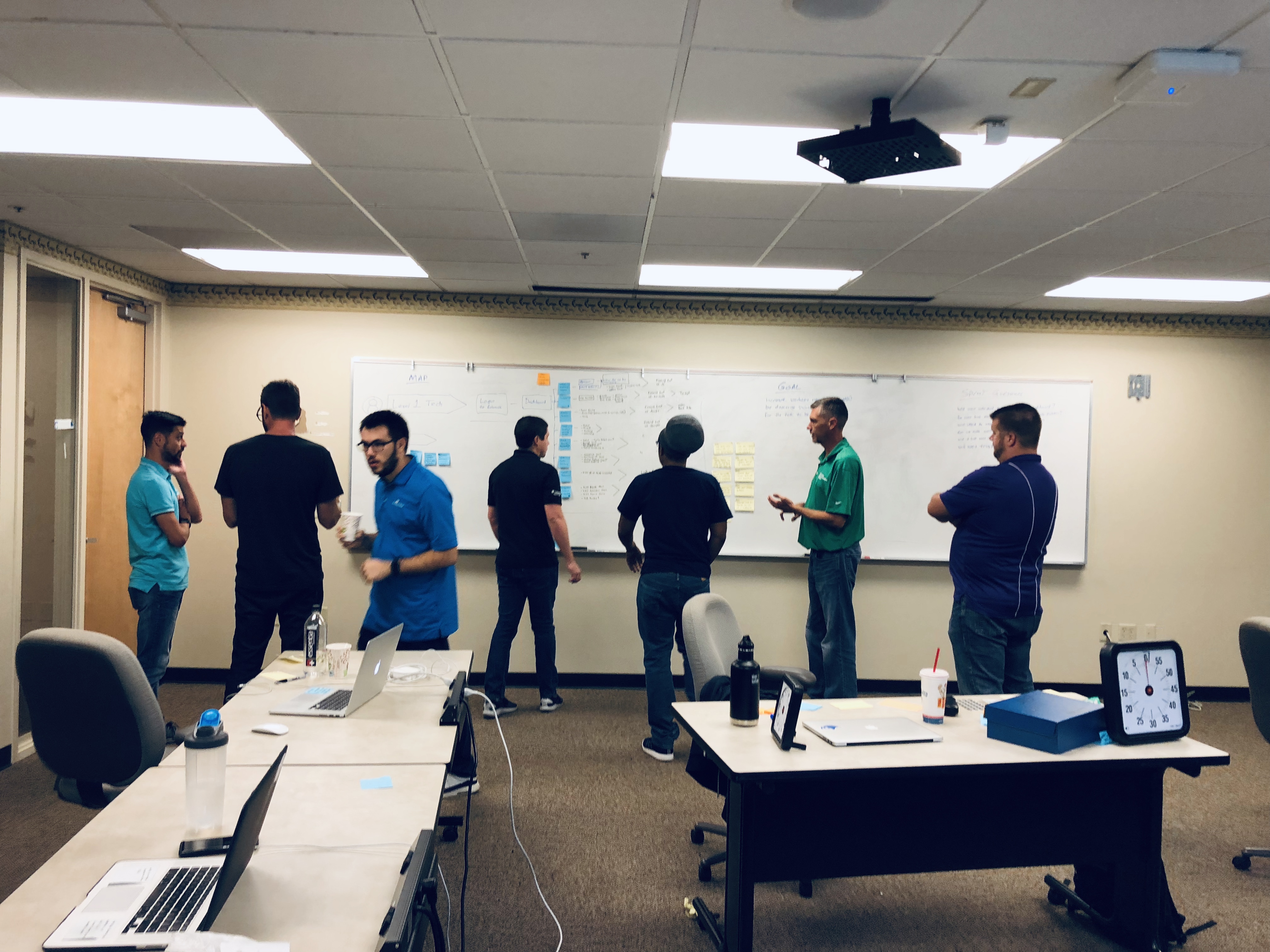 The Approach
Five days of cross team collaboration.
Set a goal 🏆

The team sets a goal in order to assure our solution stays on track. Our goal was "Create value by increasing data visibility and unifying the suite"
Map it out 🗺

This is a brand new concept so there is no current experience to map out. The team starts by mapping out the ideal user experience. We take the map and run it past internal experts and users to see if we are close to hitting the mark.
Expert Sessions 🗣
We have already done some upfront User Research which has given us a good place to start. We bring in internal experts and/or current users to answer some questions that are still outstanding. We run them through the new journey map to validate if we are heading in the right direction.
How Might We 🤔
These are questions that we have about solving problems. Instead of stating the problem, turning the problem into a question can help facilitate ideation.We document these on the map so we make sure we solve them along the way.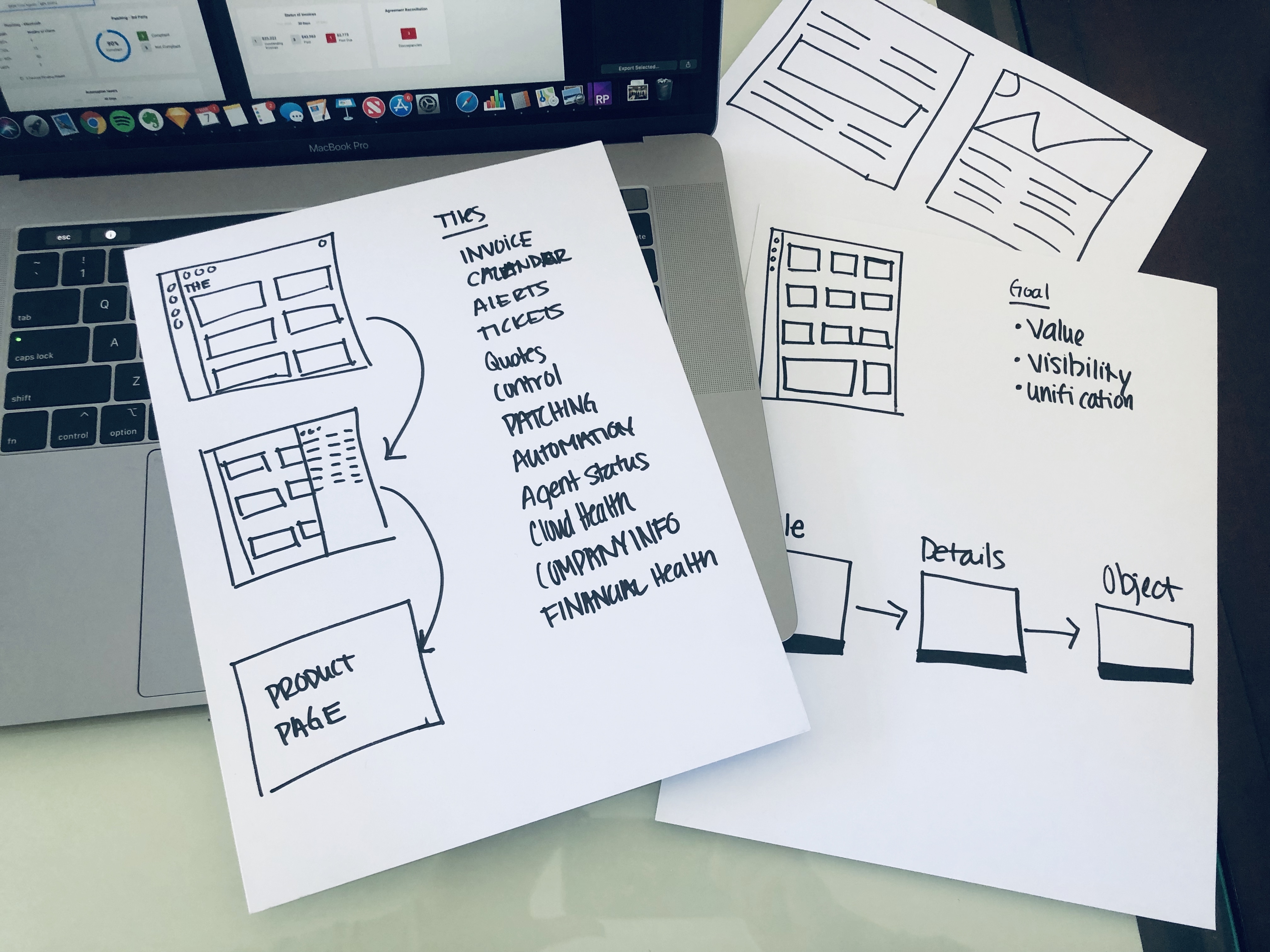 Lightning Demos ⚡️

The team researched other dashboard products and illustrate what they like or dislike about them. Each member of the team presents the product they picked. We capture these ideas to help generate individual ideas for the sketching rounds.


Sketching ✍🏼

3 Rounds of sketching. Each person presents their concept sketches and the team then votes on the features they like the best. The most voted on features help us shape our storyboard.

Storyboard 📖

We create and evaluate the storyboard to make sure the team is comfortable with the story we are telling and the way we plan to solve the issues.

Build Prototype 👷🏻‍♀️
The last day calls for primarily only designers. We have PMs on standby to supply us with data and answer questions that might come up. We review the storyboard, make sure everything checks out and then we begin prototyping. Designers get assigned screens so we can build the prototype in tandem.

Learnings
Visual concepts are the real hero
The company has talked about the need for dashboards for FOUR years. Nobody was able to showcase a solution until we ran a design sprint. When VPs and Executives are merely talking about the concept they are too overwhelmed and aren't sure where to start. The design sprint enables us to ask all the right questions and focus on the solution.
Requires a dedicated team

This is such a massive effort that is crucial to the user experience of our product. We need a full product team dedicated to this. There needs to be one PM that oversees everything to make sure it is executed properly. Every lead PM from each product would work directly with this team. There could be major confusion with multiple PM and dev teams